Y Combinator is the most popular and most successful investor in Silicon Valley. Thousands of people pitch them every batch and they choose only a select few to interview and even fewer to fund and get in. You are given 10 minutes to pitch if you get the interview.
Here's what happens when you actually get the interview.
It was a late batch, the latest possible. It was supposed to start in a week! Only 37 other teams ended up interviewing.
We knew this was our one chance. The 10 minute interview could completely change the trajectory of our lives (and it absolutely did!). We spent the next week talking to as many YC alumni as we could to get some practice interviews.
Several of them interviewed us multiple times, getting our answers as concise as possible. Despite being busy growing their business, or dealing with lawsuits, or all the other crazy major problems that come with an early startup, so many startups donated time to us. Thanks so much to Embedly, WeFunder, FlyteNow, MadeSolid, and more! We even got great feedback from other people who took the interview, but didn't get in.
Next Stop, San Francisco. Y Combinator gave us up to $1500 for travel, just enough to cover last minute flights the week of Christmas at the time. That left us no money for housing so we ended up crashing on couches our whole time there. One YC company even let us crash at their place. It turned out to be a 3-story penthouse.
What a wild place. They threw weekly parties and one just happened to fall on the night we stayed there. Tons of YC alumni were there quizzing us all night. Luckily, we even closed a new customer for Shotput. Said customer then emailed several YC partners telling them how awesome our product would be for their problems. Everything was going well…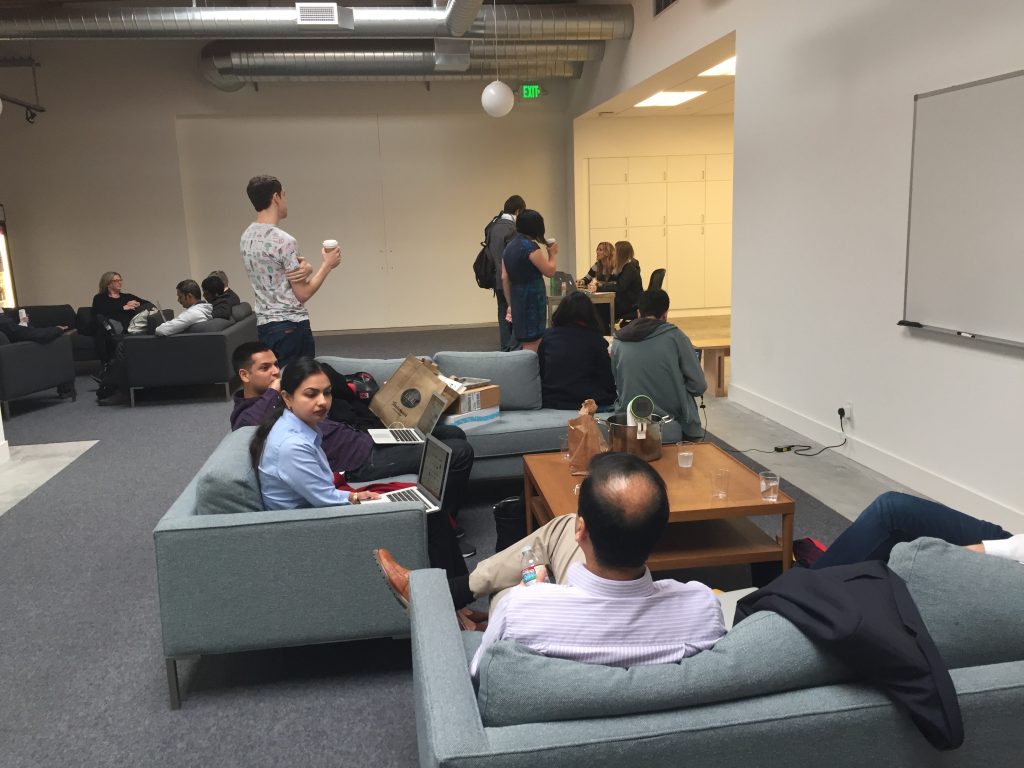 Here's the waiting room. We were actually the youngest people there. I would say the average age of the room was early thirties.
We were interview by Kat Manalac, Garry Tan, and Michael Seibel. They all have their laptops open and are presumably looking at our online application as well as our website. Now before I continue, I should probably mention no start-up story is complete without writing out someone important from the beginning. Before I even got out of school and joined them, My cofounder and another guy named Shawn had been trying some random things involving autonomous car software for at least a year. The company was called derivative/d instead of Shotput, nothing to do with warehouses or logistics really. Anyway he had quit / we made him feel less than welcome right before this Y Combinator interview, but his name was still on the application. Oops…
Back in the interview room, we sat down and brought up how our team changed since the online application before they could get a word in about it.
No concerns.
They then asked us, what do we do?
I had my laptop open with a infograph on the front of our website and said "We handle everything from post-manufacturing to the customer for direct-to-consumer hardware companies." They ask about market size, how we make money, who our competition was, how we are different, and other questions that can be found on the internet.
No surprises.
The only real hiccup was they could not decide if we were simply an alternative to Amazon. But eventually we all agreed that Amazon is best for selling your product on amazon.com but not great for any other channel. We ended with handshakes again and I offered them our last Coffeebar, a shipped product from our first customer. Sadly I didn't have enough for all of them.
Very calm, low-intensity interview. Everyone smiling and trying to brainstorm with us, we really enjoyed it. Kat didn't say a word but was she was intently watching us. She may be have trying to gauge how my co-founder and I interact.
At ten minutes, there was a knock on the door. They let us talk another minute. It went pretty well, no confusion on what we do and all our answers were under 15 seconds.
The interviewers opened the door and give us a thumbs up.
Sweet! It wasn't an intense interview with Paul Graham like I've heard from other, it was actually very productive for our business to brainstorm and even a bit fun. Even if I didn't get in, at least I could say it was a cool experience and we did everything in our power to do well.
Now the worst is over! We either get funded or not. Nothing left for us to do, right?
We are waiting around in the waiting room with other startups when a partner comes up to us and tells us to we have ANOTHER interview. Well I'm sure this one will go just as well.